If you thought turning 97 was a major milestone, then wait until we tell you about fashion icon, Iris Apfel. The American businesswoman is not only an interior designer and fashion guru, but she just signed a major contract with IMG Models!
IMG's Eldest Edition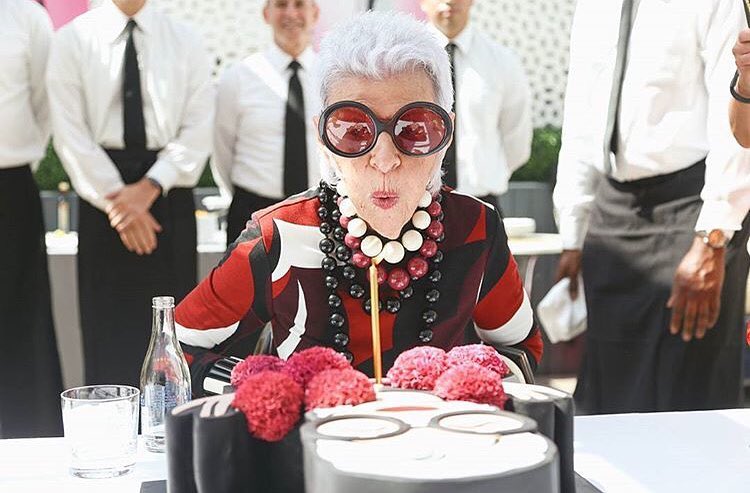 IMG Models is always looking for the world's next great talent, and guess what? They found it in a 97-year-old woman named Iris Apfel. IMG has represented supermodels like Gisele Bundchen, Cara Delevingne, and the uber gorgeous, Gigi Hadid. But Iris and her enormous signature glasses are about to redefine the modeling agency, one photoshoot at a time.
Age Is Just A Number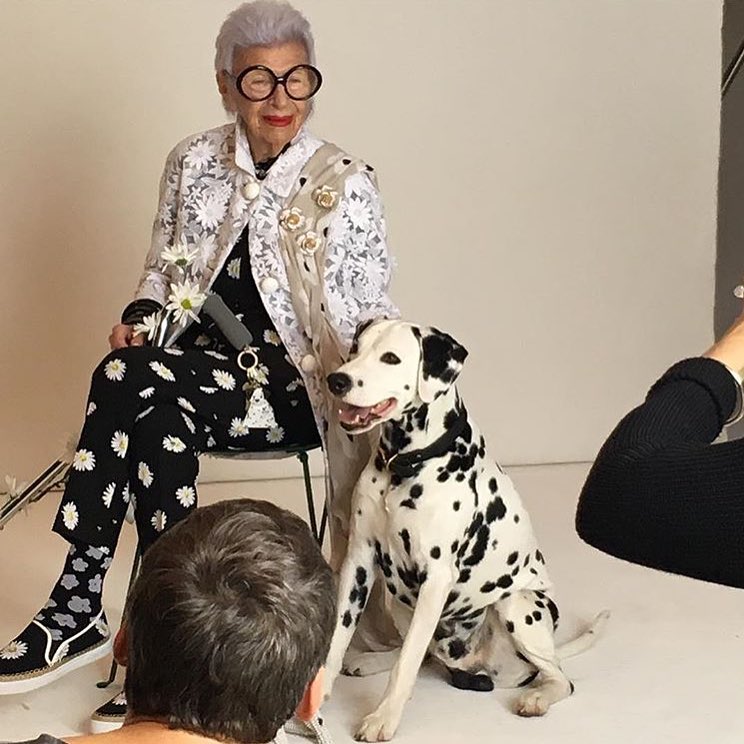 We've all heard the old adage that age is nothing but a number. But Iris hopes that her latest stint as an IMG model will inspire older women to follow in her footsteps. This is one gal who isn't ready to sit in her rocking chair all day. The stunning fashion icon doesn't believe that age should determine when you stop working because you're only as old as you feel. And judging by this style luminary's energy, she's not ready to quit anytime soon.
She's Literally Done It All!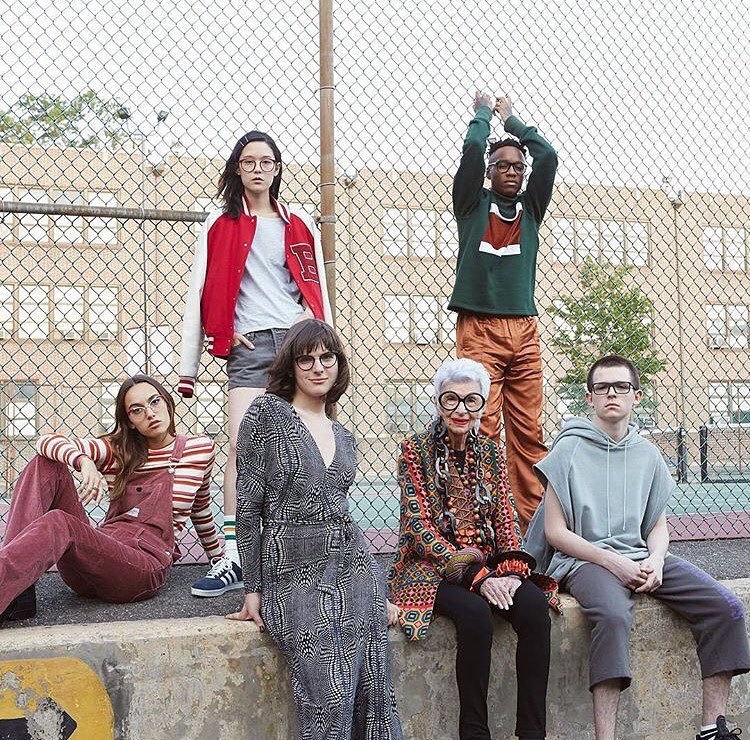 Signing on with IMG Models isn't exactly her first experience in the spotlight. She's worked on a number of projects s over the years like documentaries, ads, books, and even emojis. In 2018, she published the book, "Iris Apfel: Accidental Icon," and in 2005, she launched a vivacious exhibition in the Metropolitan Museum of Art. So, it's pretty clear that this "accidental icon" had a long and accomplished life, and she's enjoying every minute of it. But the trendsetter's journey is far from over.
Mom Inspired Her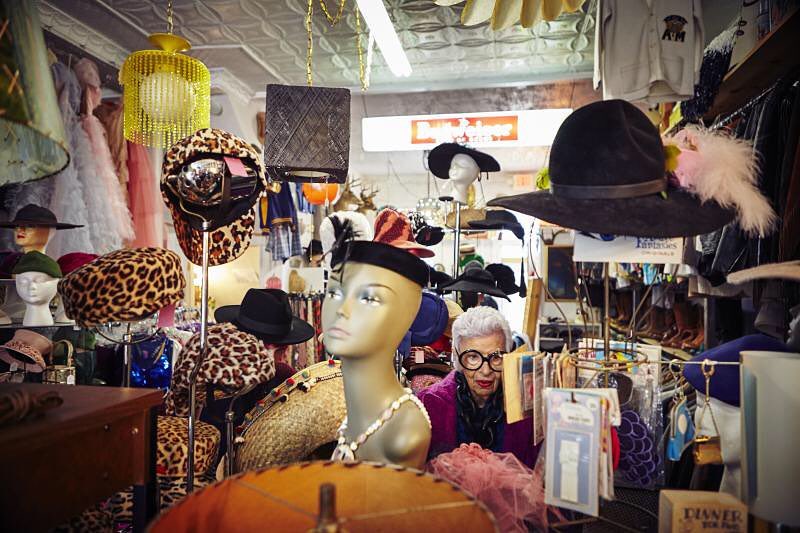 Iris is from Astoria, Queens, New York. Her dad once owned a glass and mirror business. But if you asked her, she'd tell you that she probably got her fashion inspiration early on from her beloved mother who once owned a fashion boutique. Clearly, the apple doesn't fall very far from the fashion tree!
She Studied The Arts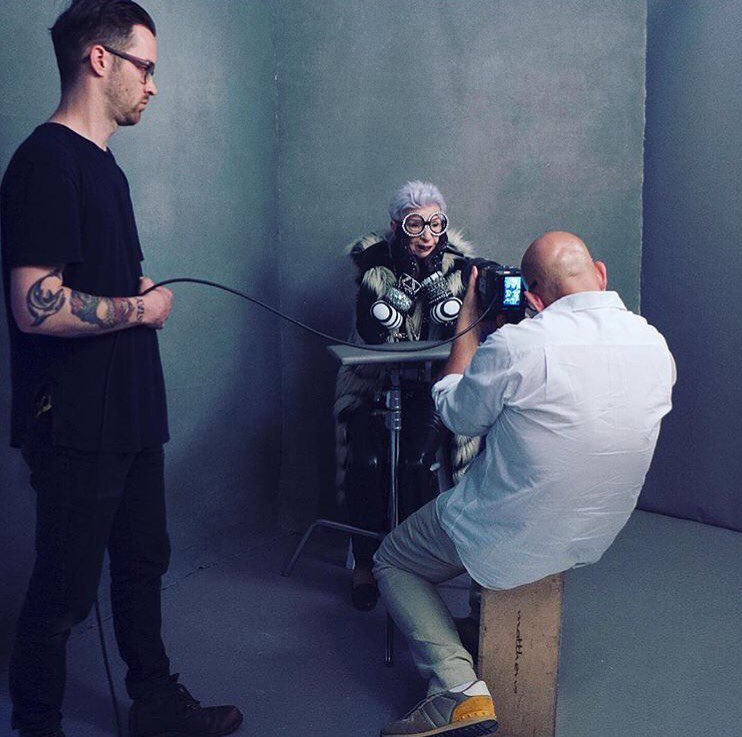 Aside from being the fanciest dresser we've seen in years, she's also a scholar. She went to New York University to study art history and attended art school at the University of Wisconsin. Then, Iris got her big start working with Women's Wear Daily (WWD) when she was in her early twenties. And anyone in the fashion industry will tell you that WWD is also known as the "Bible of fashion". But after WWD, Iris set out for greener pastures and ended up meeting some big names in the process.
Just Call Her A Location Scout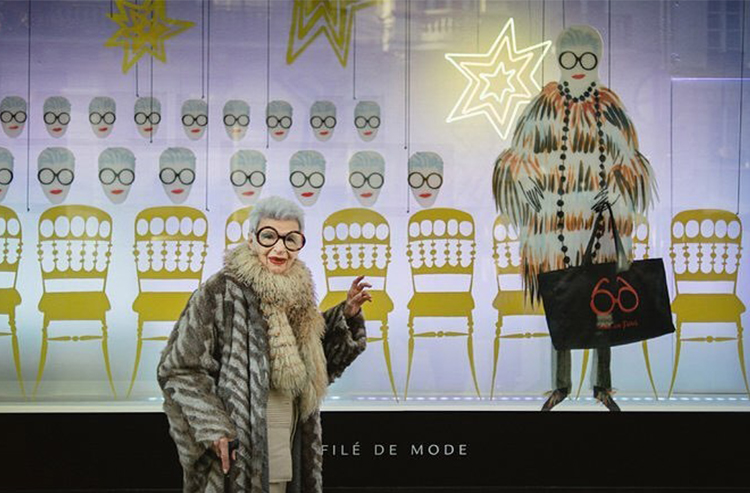 Iris started working for fashion illustrator Robert Goodman as a location scout. Then she met interior designer Elinor Johnson through Goodman. That's how she became enamored with textiles, which led to a great business venture, but not until after she got hitched.
Married… With Business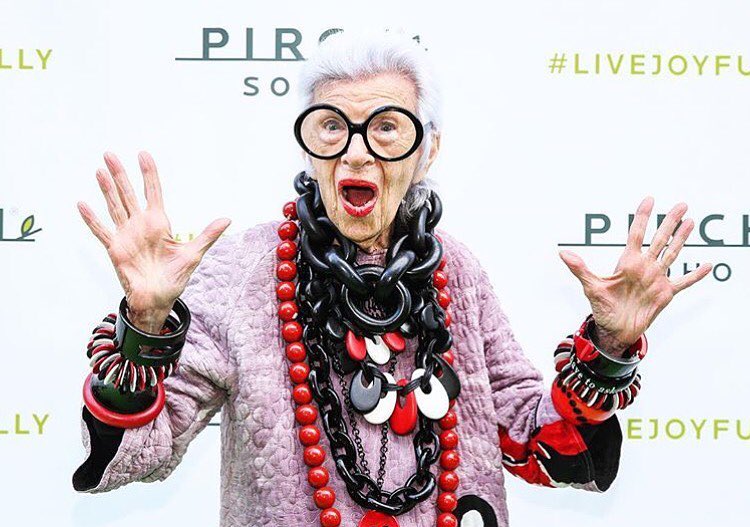 She married Carl Afpel in 1948. Two years later, Iris and Carl started a textile firm called Old World Weavers. They continued to run their business successfully until 1991 when they both retired. Sadly, Carl is no longer with us. But the number of high-profile restoration projects they worked on from 1950 to 1992 was beyond impressive. This included work for the White House. Presidents like Truman, Eisenhower, Kennedy, Johnson, Nixon, Ford, Carter, Reagan and Clinton were all blessed with her works.
She Could See The World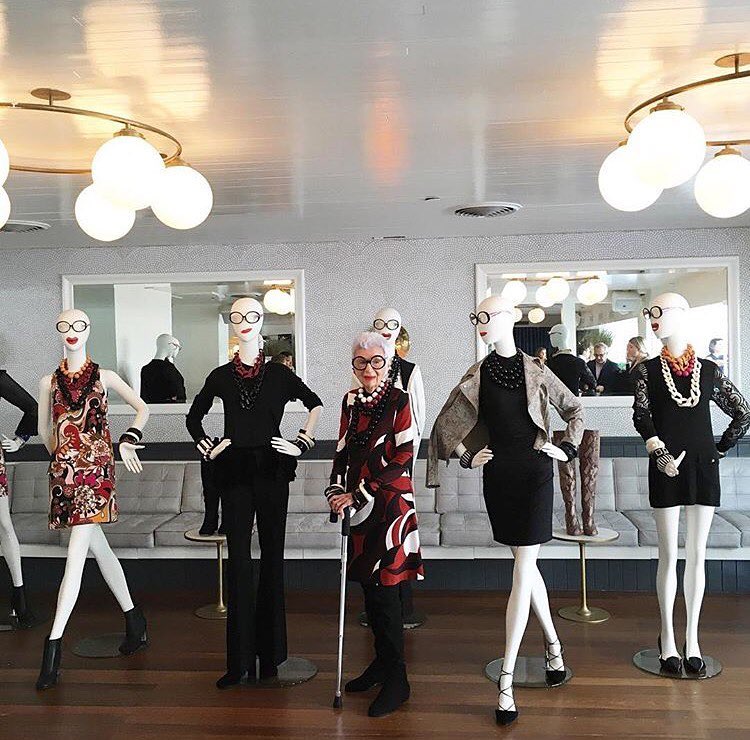 Their booming business allowed Iris and Carl to travel to Europe, Africa, The Middle East, India, and even parts of Asia to gain inspiration and collect trinkets. This was the start of her fashion collection. During her visits, Iris bought non-western artisanal clothes and then wore them to her clients' lavish parties. In 2006, The Met Costume Institute had an exhibition of all of her clothing and accessories. They called it, "Rara Avis: The Irreverent Iris Apfel." The exhibition was such a hit that it soon became a traveling exhibition.
Eclectic Statement Pieces Are Her Go-To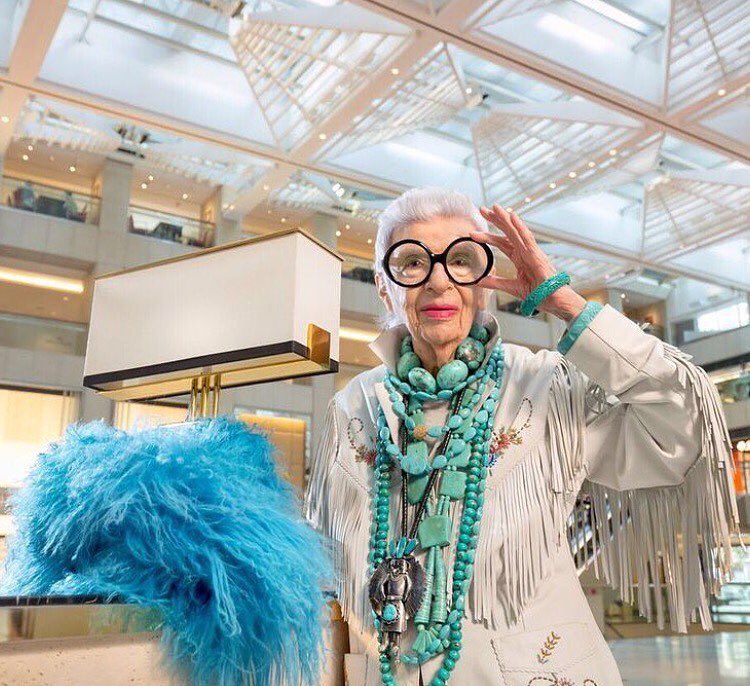 Iris' flamboyant glasses and bold fashion sense of style definitely help her stick out in a crowd. Then again, Iris spent her whole life wearing extravagant pieces and vivacious looks. She can pull off couture fashion pieces like no one else can, and she to go all out when accessorizing.
Iris' Deal Is Well Deserved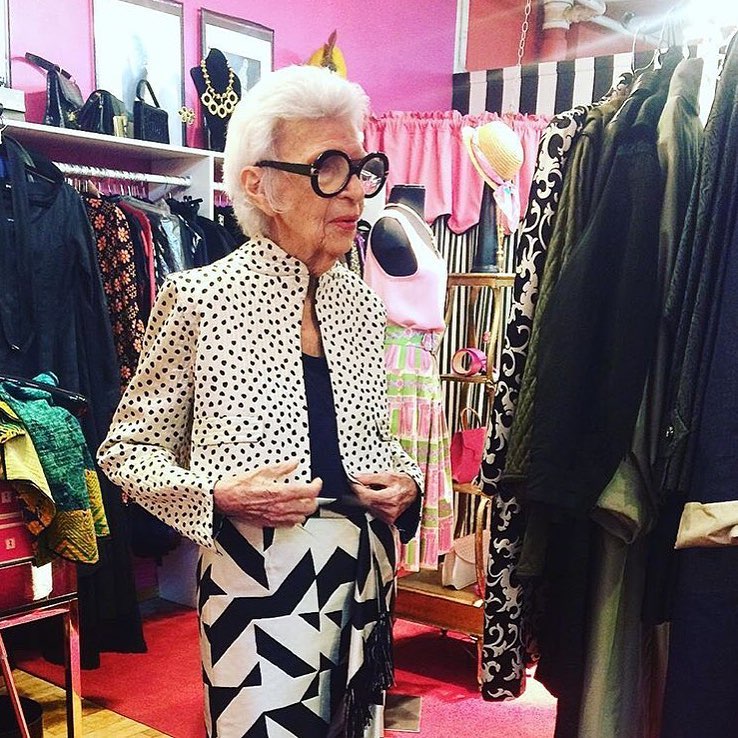 Iris has kept practically everything she's ever bought. Her hunt for the ideal fashion pieces is how she built her unique style. She told Vanity Fair, "I have a very odd collection: it goes from the sublime to the ridiculous. I have some very important, valuable things, and I have some junk, and I like to mix them all together. I'm constantly buying jewelry—I love it, I love it, I love it!"
Eternal Iris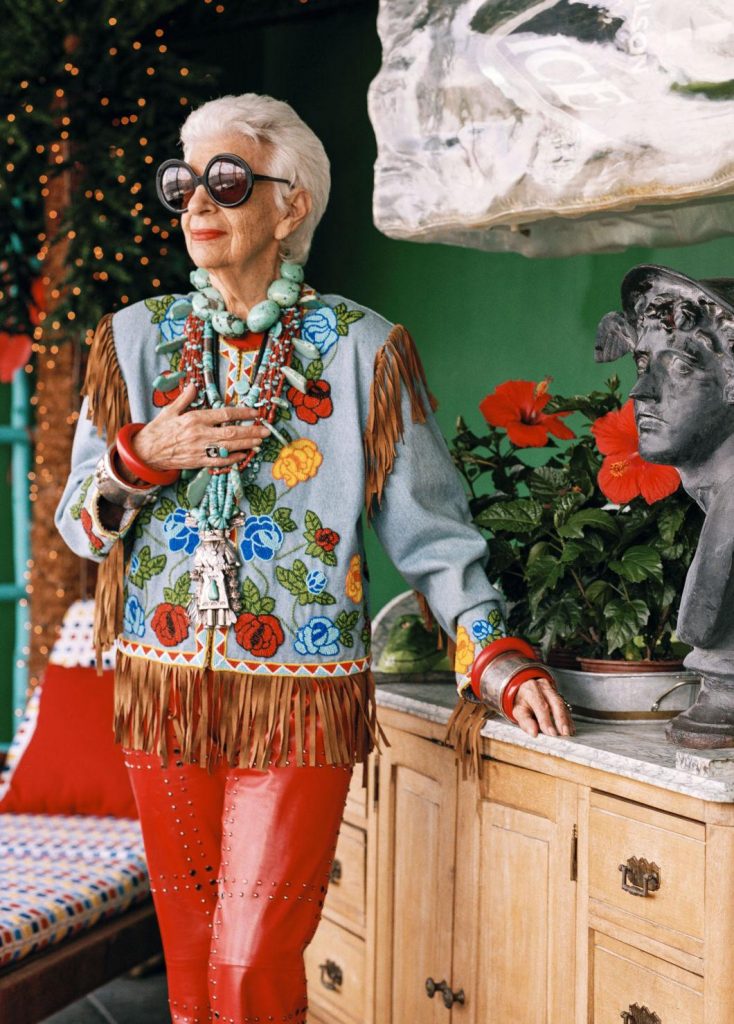 Many are looking to her for inspiration because she exudes radiance and confidence everywhere she goes. Iris always manages to keep things interesting and chic. When Vanity Fair asked her if she felt her sense of style had gotten better over the years, she had this to say: "As you age, everything changes a bit, but it's basically the same. I still wear the dress that I wore on my first date with my husband and that was 68 years ago. I get a lot of mileage out of my clothes."
I am Camila – Serial tea drinker. Professional wig snatcher. Content creator and video script writer who may or may not be John Leguizamo's body double. If you don't like where you are, move. You're not a tree.