Sweet, hard-working and playful; these are just some of many traits that describe the deliciously handsome Chris Evans. But a Twitter account suggests there's a reason behind this. It's called Chris Evans Is A Golden Retriever and they've got tons of photo evidence to prove their case.
What Are You Talking About?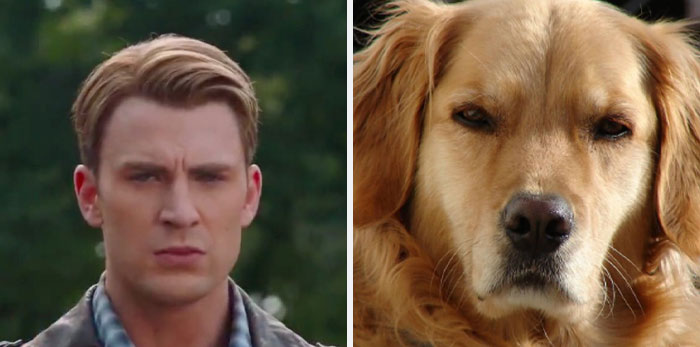 We know it sounds insane, but the "Chris Evans Is A Golden Retriever" Twitter page has over 59,000 followers who are totally living for this madness. It's tough to refute their claims when you take a look at this side-by-side image of Chris Evans and this puppy giving us their best grumpy face. The similarities between these two are both startling and impressive. But you'll probably need more proof. Keep scrolling!
They're Both Very Shady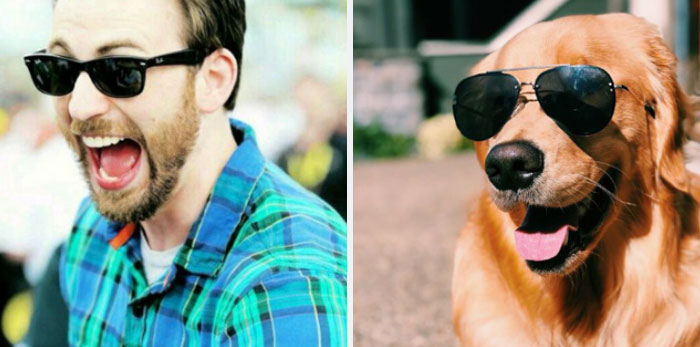 We know Chris Evans looks really cool in shades, but we never realized how much he was twinning with this four-legged counterpart. The similarity is uncanny! That being said, they should both consider closing their mouths unless they want to swallow flies. Just saying!
We Love The Sweater Vibe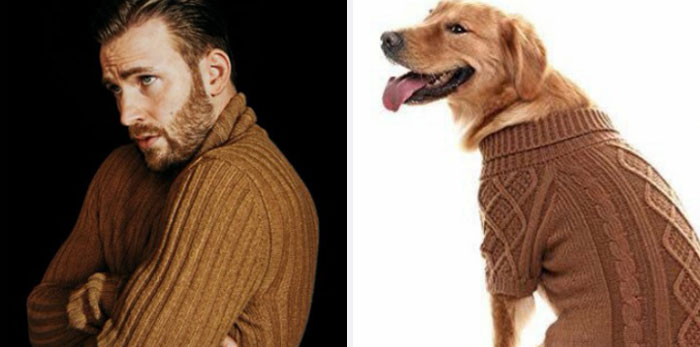 This would put a smile on anyone's face! Chris is sporting some facial hair while the pooch is sporting body hair. Plus, the color really brings out their eyes. But we're totally digging the sweater these two are wearing. It's giving them major "good boy" vibes.
They're Totally On Point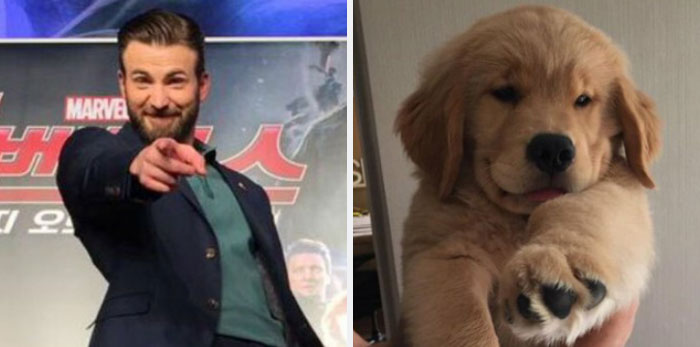 There's no point in denying it! Chris is a golden retriever! Both he and this pupper are ridiculously adorable and they'll enchant you with their good looks and charms. Don't tell us you wouldn't jump at the chance to hold and pet any of these two bad boys? Ugh!
He Lets It Hang It To The Side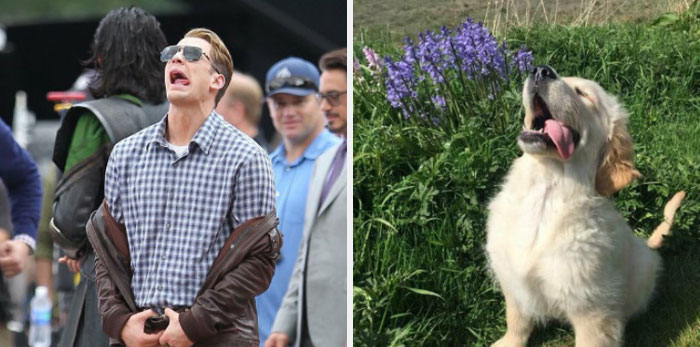 It looks like this golden retriever has a lot in common with the handsome Hollywood actor. They both use their tongues the same way to lick off the side of their mouths while staring at the sky for no reason at all. Are they trying to vanquish us by being so freaking cute?
Doggy Blues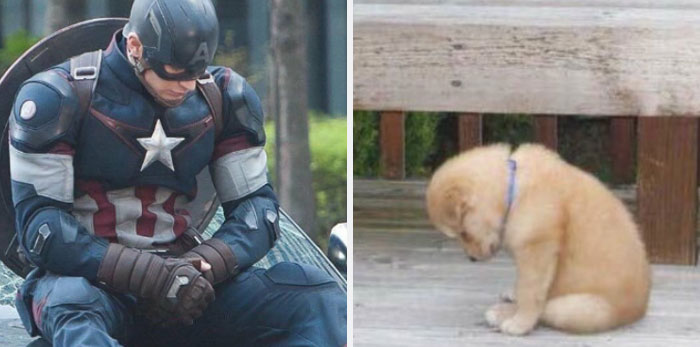 The "Captain America" actor and this adorable golden retriever have a superpower that can take us all down. When they get all gloomy, it makes us bawl our eyes out. Then again, they might not be sad at all. Maybe they're just dozing off.
They Don't Drink Out Of Bowls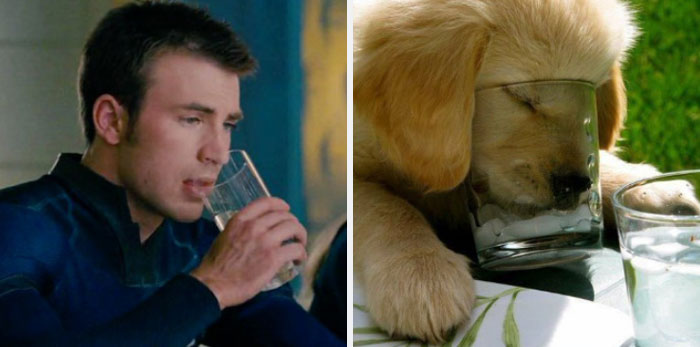 Chris and this golden retriever are way too fancy to drink water out of the toilet. Instead, they use a glass because it's important to look classy while staying hydrated. But it's tough to decide which one we'd adopt if we had a chance. On one hand, the puppy is seriously cute. But on the other hand, we would really love to come home knowing Chris Evans is waiting for us!
They Play With Balls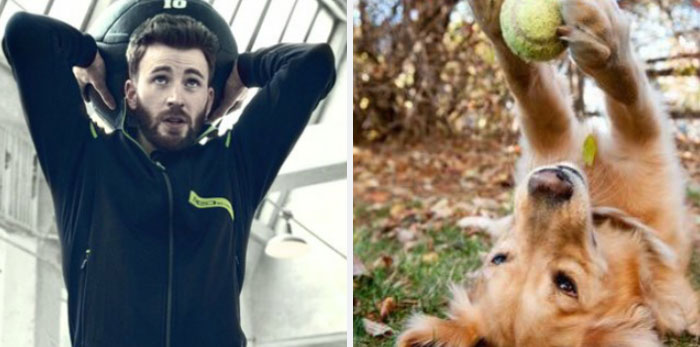 Everyone knows that dogs like fetching balls. But how many of them actually hold them with both hands and look spectacularly handsome like Chris Evans? We just can't look at these pictures without having cuteness overload!
They're Into Social Media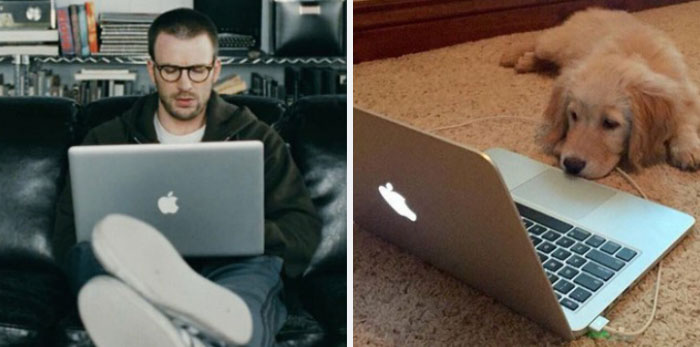 Chris Evans and this golden retriever enjoy surfing the web and undoubtedly love to look at funny pet videos. And if we're being honest, we can't decide which one looks cuter while doing so, Evans or the pooch!
Chris And Puppers Love Their Plushies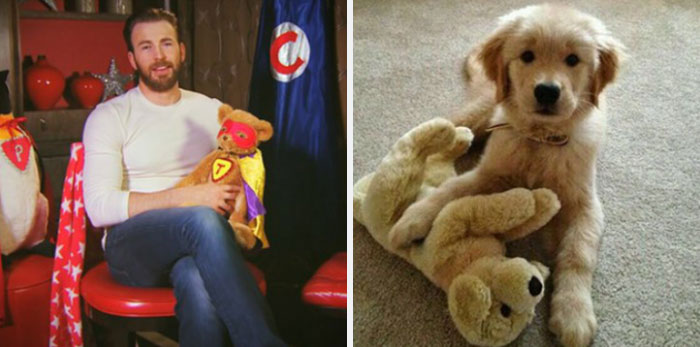 Chris has proven that you're never too old to have a teddy bear and so has this golden retriever. It's insane seeing how alike they can be. It must be exhausting being this cute, 24/7! Plus, how many grownups do you know who can look cool while holding a teddy bear?
They're Both Oh-So Romantic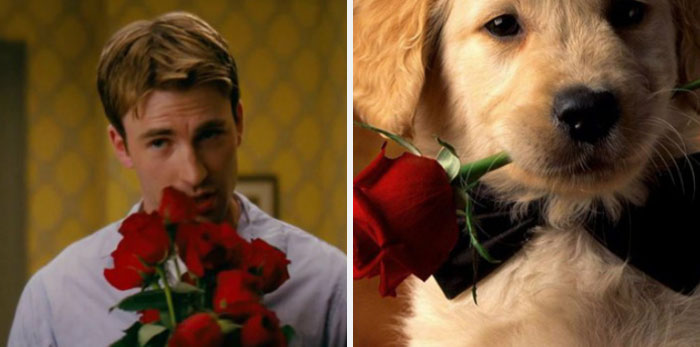 It's hard to tell which one is actor Chris Evans, and which one is an adorable golden retriever. He's soft, fluffy, energetic, and ridiculously adorable. But the pup on the left is pretty cute too.
They're Excellent Snugglers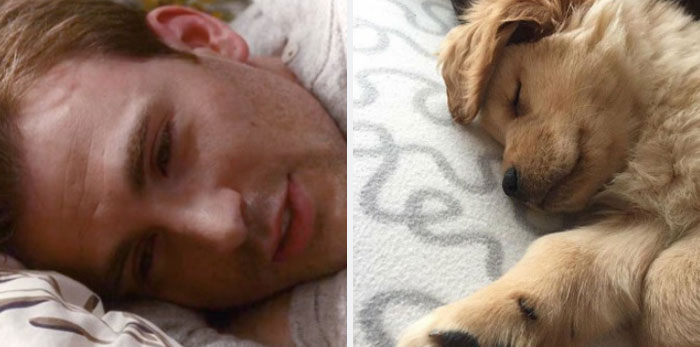 So here we have two attractive beasts with great hair. Chris and this golden retriever are so adorbs when they're taking a nap, don't you think? Most of us know that pooches make excellent snugglers, but we're willing to bet that Chris Evan is a pretty good snuggler too. Heck, we wouldn't mind putting our assumptions to the test!
Who Wants To Play Ball?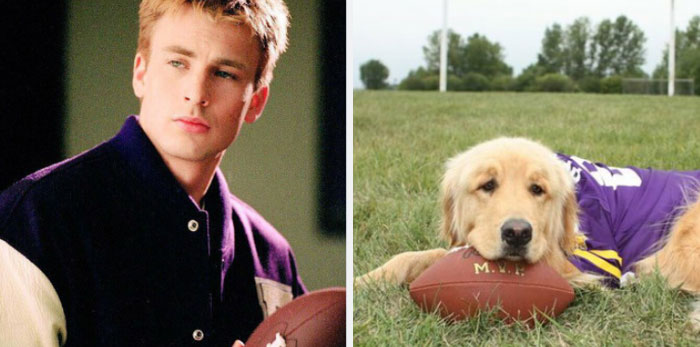 What do we see here? Oh, just two adorable jocks with their footballs. Just look at the one on the right. He's so handsome, and if we're being honest, the one on the left isn't too bad either. So, if you're looking for an escape from a regular Twitter feed consider following this one. Just don't be surprised if you become an instant fan of this Twitter account.
I am Camila – Serial tea drinker. Professional wig snatcher. Content creator and video script writer who may or may not be John Leguizamo's body double. If you don't like where you are, move. You're not a tree.