On March 13, 2019, the world panicked when Facebook and Instagram seemingly stopped working. Beauty gurus were unable to post photos of their makeup looks. Foodies didn't have an audience to share the meals they ate, and influencers couldn't post pictures of the new sneakers they bought. As you can imagine, people were livid, so they immediately took to Twitter to complain about the outage. And let's just say that the reactions were downright hilarious! It certainly isn't the first time that Facebook has gone down, but it may be the longest blackout in social media history. While we hope it never happens again, we're glad some people took the time to laugh it off instead of losing their marbles.
The Outage That Affected The World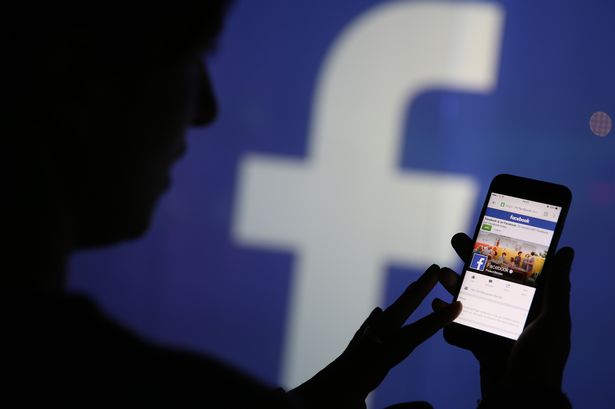 Users in the US, Europe, South America, Australia, and Asia were affected by the outage, which left Facebook and Instagram users in the dark. While people wondered if they'd have to resort to using envelopes and stamps to contact their loved ones, Facebook immediately tweeted about the problem and assured everyone they were working on the problem. In the meantime, there were a lot of folks with nothing to do, so they vented on Twitter.
Waiting Forever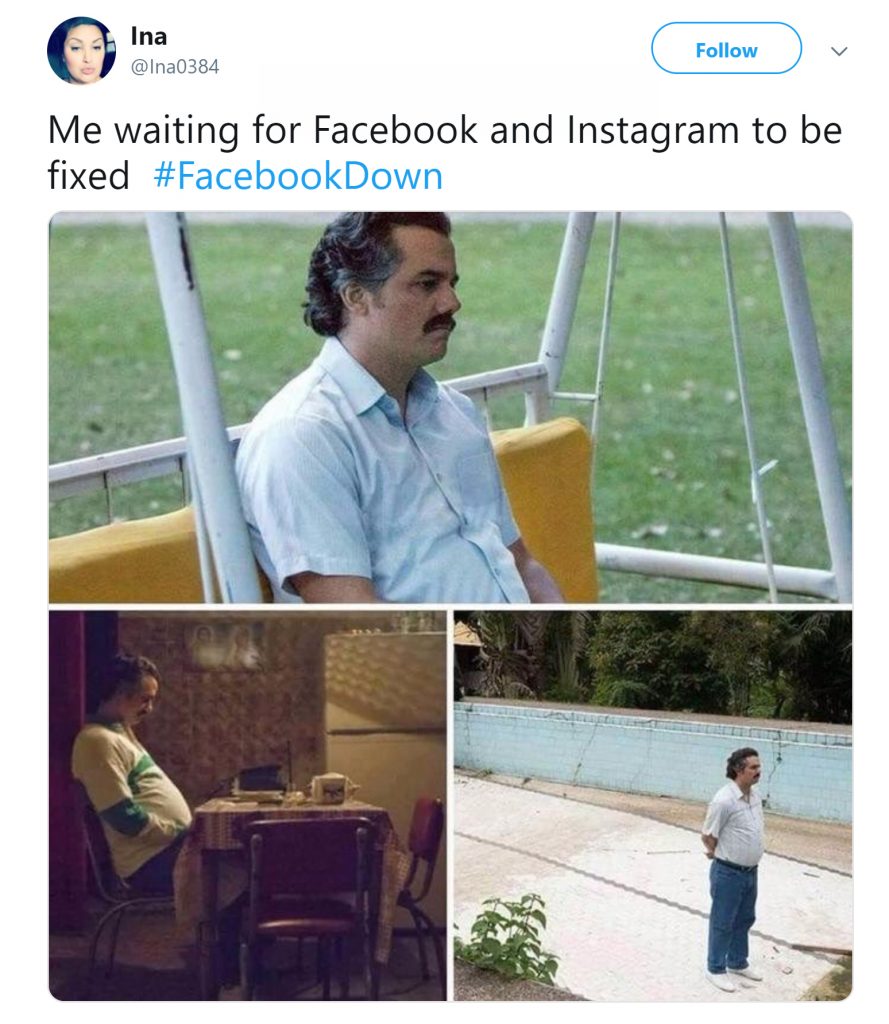 Twitter user @Ina0384 posted 3 photos that reflected how she really felt about Facebook going down. She obviously had a lot of time to ponder her life choices but was coming back with zip. Then again, it's no picnic playing the waiting game. We bet she's glad the nightmare is over!
Zuckerberg's On The Job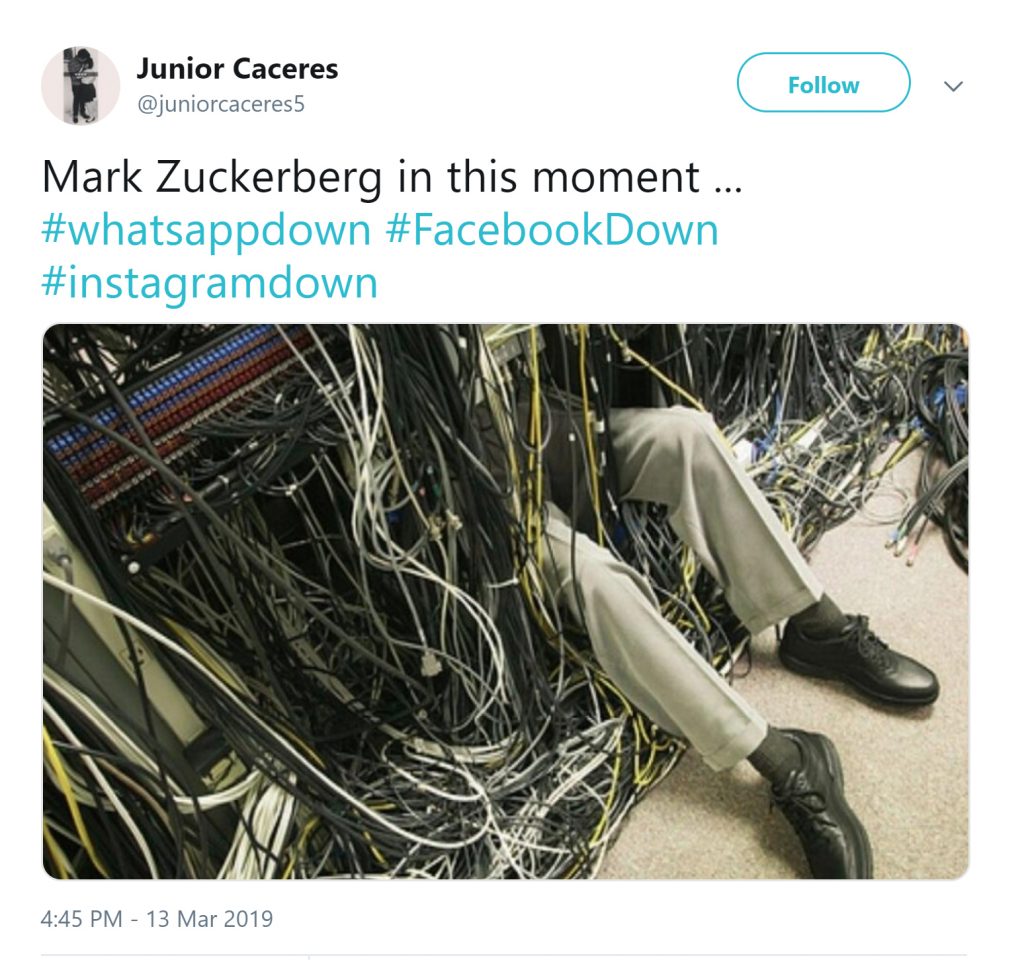 Twitter user @juniorcaceres5 has a pretty good idea what Mark Zuckerberg was doing when Facebook tanked. It probably involved diving into the guts of the company's servers to get things fixed before he lost more money.
Disappointed But Not Surprised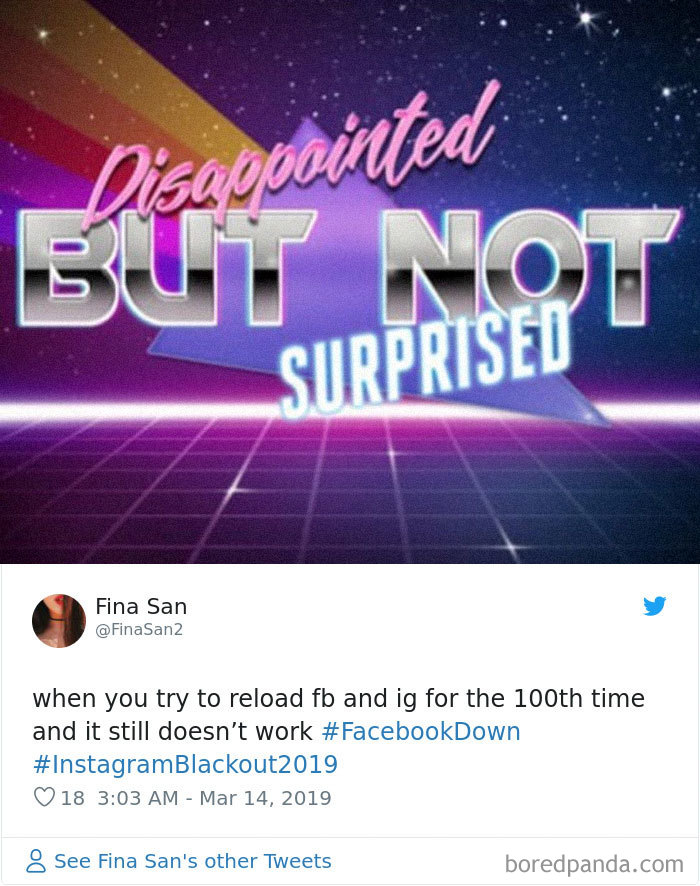 Others like Twitter user @FinaSan2 found an 80s way to express her feelings about the 2019 Instagram and Facebook blackout. Speaking of the 80s, it sure felt like we went back in time 40 years when we couldn't access our favorite social media sites, huh?
Where's The "Any" Key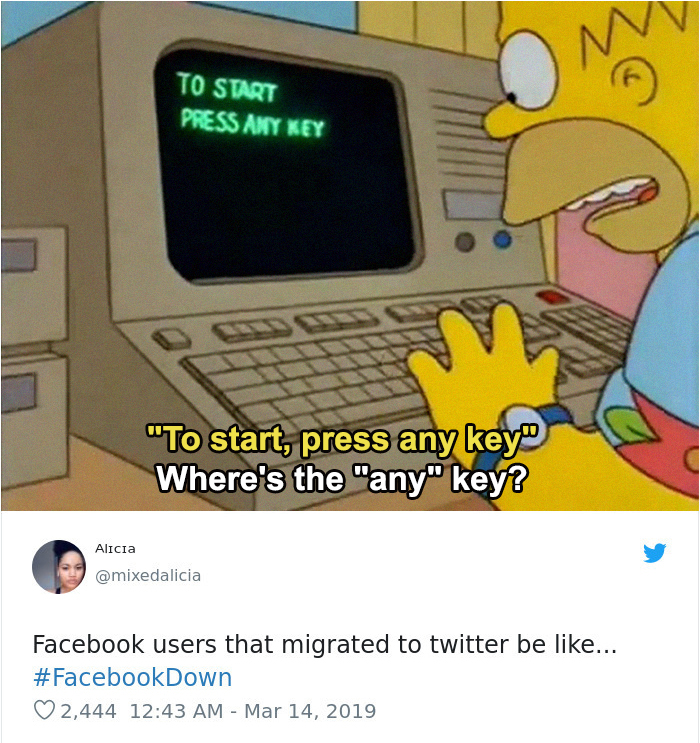 If anyone could relate to the pain of tweeting, it was Twitter user @mixedalicia. Now we're not saying that Twitter isn't popular, but some people might have stumbled a bit trying to figure out how to tweet after being so accustomed to using Facebook and Instagram all the time.
At Least Twitter Was Around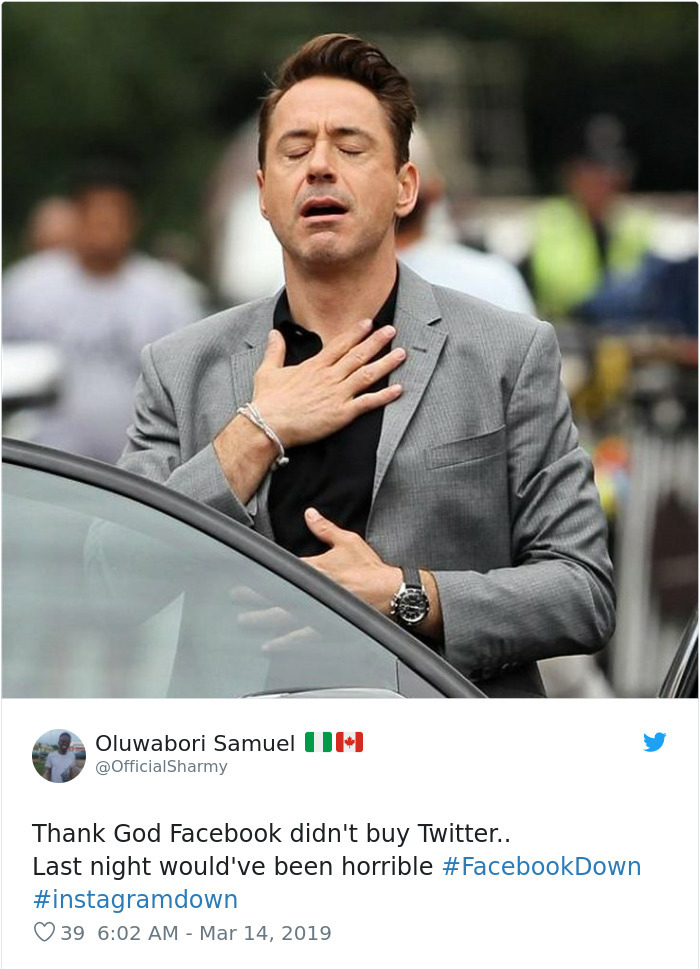 Guys, relax! Look on the bright side, like @OfficialSharmy did. If Twitter had gone down, then no one would have been able to go on social media to complain about the outage. Then we would have truly experienced a digital apocalypse.
Imagine A World Without Facebook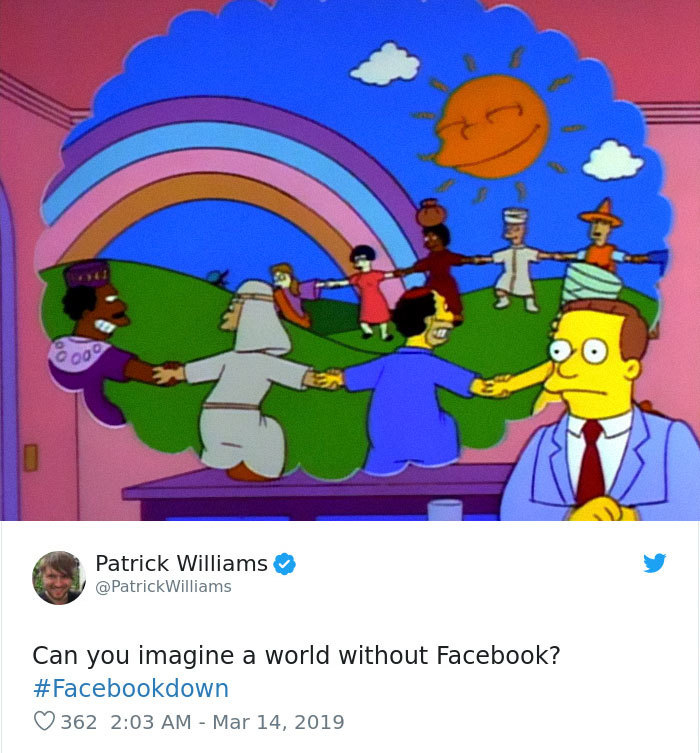 Not everyone saw this blackout as a bad thing. It gave Twitter user @PatrickWilliams something to think about, like whether the world would be better off without Facebook. But then, where would people go to post those adorable photos of their cats and dogs?
Things You Accomplished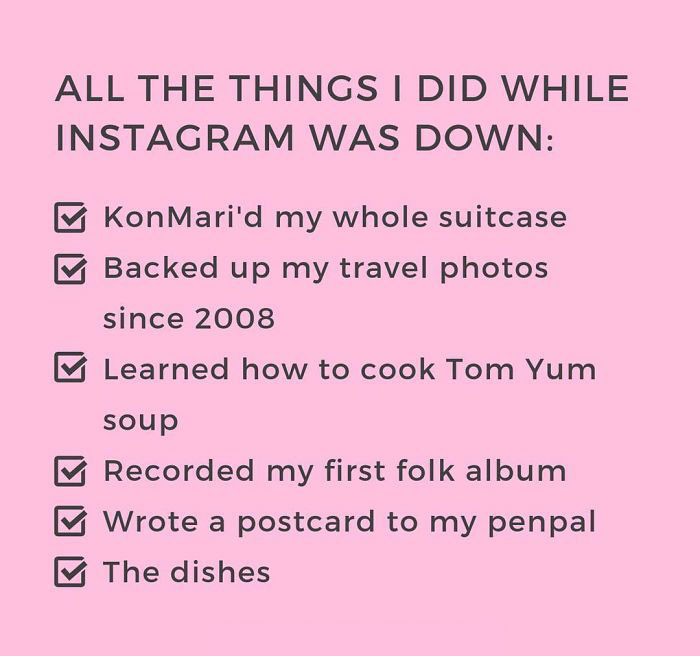 Instagram user @digitalnomadgirls had a different take on the blackout. They posted a list of things they were able to accomplish while social media's circuits fried and people were scrambling like they were in the midst of The Purge. And we've got to admit, going on a (forced) social media cleanse isn't such a bad idea after all.
Venturing Outdoors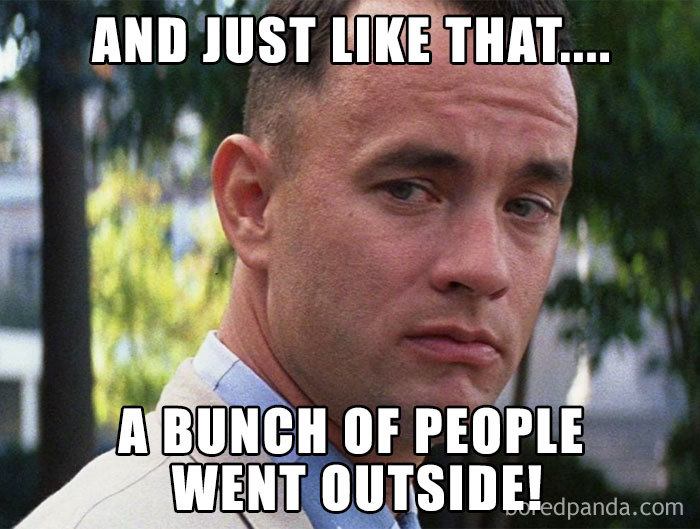 Instagram user @jeffjackson864 posted a meme that was probably on point. Without Facebook, people probably had to look away from their phones or terminals and actually see the world. Who knows? Maybe they even tried going outside and enjoying the sunlight.
Get A Job!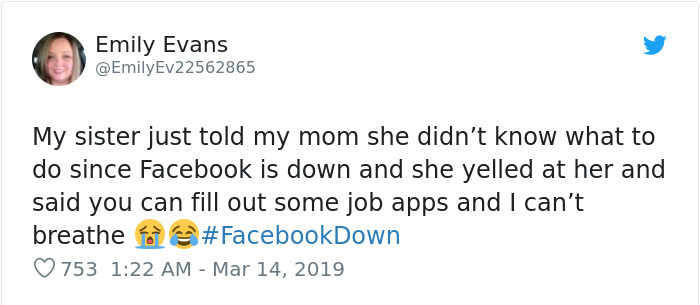 Twitter user @EmilyEv22562865 may be the worst sister ever. She's laughing at her sister's expense after her mom suggested she try applying for jobs while Facebook was down. Alright, so maybe it was good advice that a lot of people should have considered following. But we're sure the sister would have preferred the Facebook app over a job app any day.
Make MySpace Great Again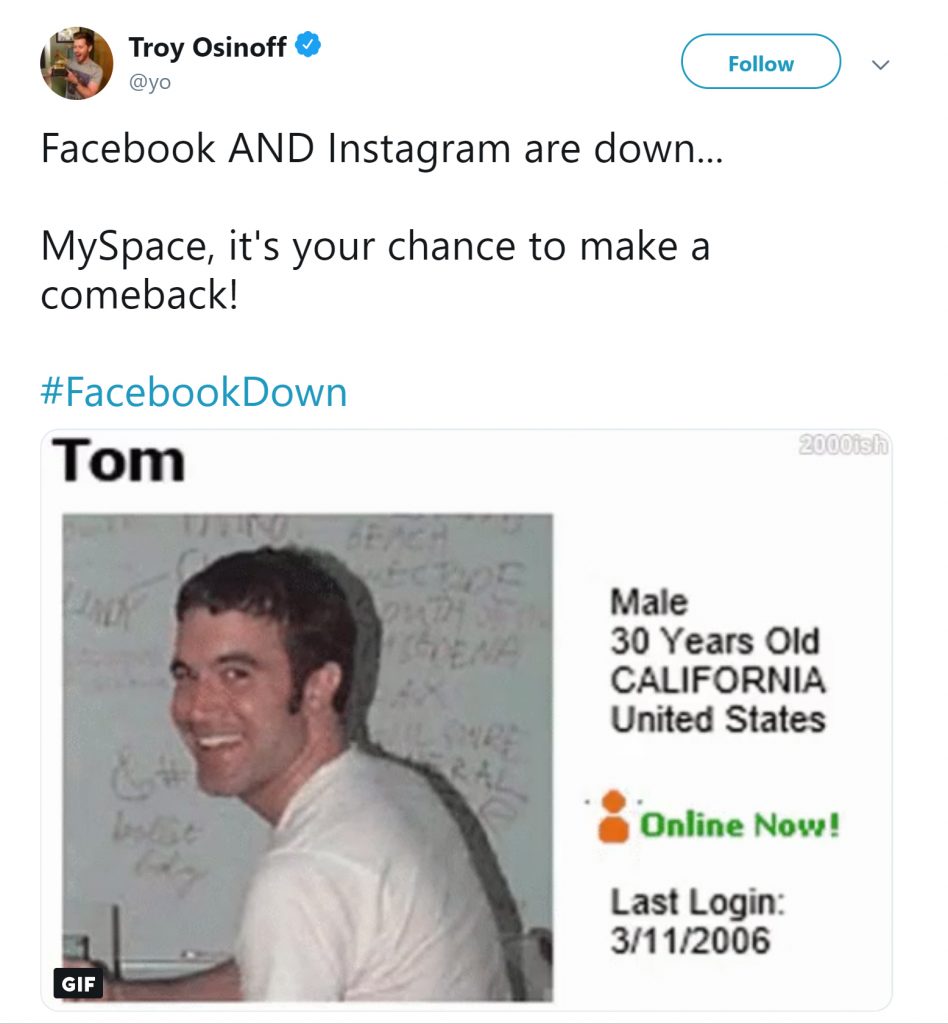 Twitter user @yo has some great advice for MySpace founder Tom. With Facebook and Instagram out of commission, this would have been a great time to see if the classic social media favorite could indeed get a second chance at life. And let's face it, everyone loves a comeback! Where are you, MySpace Tom?
I am Camila – Serial tea drinker. Professional wig snatcher. Content creator and video script writer who may or may not be John Leguizamo's body double. If you don't like where you are, move. You're not a tree.